Debate in Parliament on Whistleblowing Law Reforms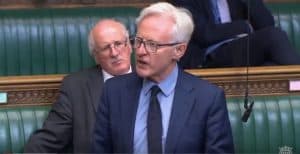 Rahman Lowe Solicitors represent Dr Chris Day in his high profile whistleblowing claim against Lewisham and Greenwich NHS Trust ("the Trust") and Health Education England ("HEE").
Background
In 2013 and 2014, Dr Day, a brave junior doctor raised patient safety concerns about night staffing levels in an intensive care unit at Queen Elizabeth Hospital in Woolwich, London. Shortly after his disclosures, Dr Day was subjected to a campaign of harassment and victimised for blowing the whistle. As a result, he was forced to resign from his training post in September 2014.
In October 2014, Dr Day commenced Employment Tribunal proceedings against the Trust and HEE for whistleblowing detriment. At a preliminary hearing, HEE contested Dr Day's claim that it was his employer under the extended definition of 'worker' in Section 43K of the Employment Rights Act 1996. Following years of litigation, on 5 May 2017 the Court of Appeal handed down a judgment that allowed Dr Day's appeal. As a result, HEE conceded a year later in the Employment Tribunal that it was Dr Day's employer and paid part of legal costs in the sum of £55,000.
HEE disgracefully contended that Parliament intended that it should be beyond the reach of whistleblowing law notwithstanding the role which it plays in relation to doctors in training, no matter how blatant and serious its retaliation against a trainee doctor and regardless of how important the issues raised by that doctor in the public interest.
Current position
Rahman Lowe Solicitors recently lodged an application for wasted costs in respect of the conduct of HEE's solicitors in the Employment Tribunal and the Employment Appeal Tribunal ("EAT") and in particular, the failure to disclose a vital contract between HEE and the Trust, known as the Learning and Development Agreement ("LDA") during the tribunal proceedings. Our case is that if the contract (that governs the relationship of trainee doctors) had been disclosed in 2015 or during the Court of Appeal hearing, significant legal costs could have been avoided.  Whilst the LDA was in HEE's possession and control, the document was only disclosed in early 2018. We also lodged an appeal against the Employment Tribunal's decision dated 28 November 2018 and have asked the EAT to set aside a settlement agreement that Dr Day was induced to sign because of undue influence/misrepresentation/mistake at a hearing in October 2018.
On 3 July 2019, Dr Day's whistleblowing case was discussed in Parliament and the Right Honourable Norman Lamb MP called for a fundamental review of whistleblowing regulation to provide proper protection for a broader range of people. In relation to Dr Day's case, he stated:
"What happened to Dr Day, because he spoke out, is wholly unacceptable. He suffered a significant detriment. His whole career has been pushed off track, and his young family have been massively affected. Junior doctors in that unit were put in the invidious position of being responsible for far too many people compared with national standards, so he pursued a claim against both the trust and Health Education England. The NHS spent £700,000 of public money on defending the claim and, in large part, on attempting to deny protection to junior doctors who blow the whistle against Health Education England. Lawyers, disgustingly, were enriched."
Late last year, the tribunal that eventually heard Dr Day's case ended early after he was threatened with a claim for substantial costs. He and his wife could not face the prospect of losing their young family's home, so he caved in. That is surely scandalous treatment of a junior doctor. He was defeated by superior firepower. We have the grotesque spectacle of the NHS, of all organisations, deploying expensive QCs to defeat a junior doctor who raised serious and legitimate patient safety issues.
The full transcript of the debate can be found here and viewed here. Dr Day's case is of considerable public interest because it affects approximately 54,000 junior doctors and specialist registrars working in the NHS. Financial support from the public is vital to cover Dr Day's legal costs. He is raising funds for his legal challenge on the CrowdJustice platform.
For further information on Dr Day's case or if you would like to discuss a whistleblowing matter, please contact us on 0207 956 8699 or info@rllaw.co.uk.