Racism in football – does football have a racism problem?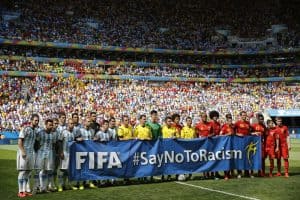 England and Manchester City forward Raheem Sterling recently spoke out about the explicit racism published in the media against black players.
Following an allegation of racial abuse at Stamford Bridge on 8 December, Sterling posted examples of two headlines published in the Daily Mail, one painting a young white footballer in a caring and positive light for buying his mother an expensive house, the other painting a young black player in a negative way with connotations of him being irresponsible and flash with his money for doing the exact same thing.
Sterling accused some sections of the media of helping to "fuel racism" with their portrayal of young black footballers.
If we go back to the 80s and 90s, black players were subjected to the throwing of bananas on the pitch, however, former Liverpool FC and England forward, John Barnes has commented that "Invisible banana skins are thrown at black people every day." He also said: "We have to change the perception of the average black man in the street – until we change that perception, nothing will change."
In fact, a week before the incident at Stamford Bridge, a Tottenham Hotspur supporter was arrested for throwing a banana skin at Aubameyang during Arsenal's win at the Emirates stadium. In Italy, Napoli's Kalidou Koulibaly was racially abused (subjected to monkey noises) by Inter Milan fans on Boxing Day and as a result, the team will now be forced to play their next two home games behind closed doors.
So, in reality, has society and the media really moved that far forward? It may be less explicit, but surely this is more dangerous because it is more difficult to identify and to call out. Sterling has done just that, however, and it has sparked an important conversation.
The racism appears to be deep-rooted, and the negative portrayal of black people in some sections of the media has a powerful impact on society.
If you stop and think about the word 'beast' and its use regarding footballers, which footballers come to mind? The media, scouts and the football industry (including at grassroots level), frequently use this word to describe strong, powerful black players. Former Chelsea star Didier Drogba was constantly described as a beast.  A compliment at first glance, but if you think about the actual word, it means 'animal.' Strong, powerful white players are not called beasts. For example, Leicester City's Harry Maguire is generally described as being "dominant" in the air.
Drawing parallels between black players and animals has a very long and racist history.
So why are black players portrayed in this way?
Regrettably, there are all kinds of "veiled" racist discourses that dominate the language used by some sections of the media, coaches and fans during football matches.  While newspapers cannot be solely at fault for fuelling racism in football, they, together with the governing bodies, are part of the problem and a lot more needs to be done by those in power to stamp out racism and to tackle what appears to be an alarming growing trend in the UK and across Europe.
The Equality Act 2010 prohibits discrimination because of 'race', which includes colour, nationality, ethnic or national origins.
Direct race discrimination occurs when a person is treated less favourably than another because of a protected characteristic such as race, sex, religion or belief etc. Proving direct discrimination is not straightforward as direct evidence of discrimination is often not available. Generally, those that discriminate do not advertise their prejudices and therefore, one is often left to infer discrimination from the circumstances.
Direct discrimination need not be conscious. In employment, unconscious bias can influence decisions in recruitment, promotion and performance management. It could be discriminatory when the unconscious bias relates to race and people may hold prejudices that they do not admit, even to themselves. Preconceptions that people of a particular racial group possess or lack certain skills are discriminatory.
The object of anti-discrimination legislation is to ensure that individuals and groups are not treated less favourably in the same or similar circumstances, and that each person is treated as an individual and not assumed to be like other members of the group. For example, assuming that Asian footballers are "weak" and "slow" is likely to be discriminatory on racial grounds. Stereotyping is unacceptable because what may be true of a group, may not be true of a significant number of individuals within that particular group.
The response to any form of racism must be robust. The game's stakeholders need to challenge and take affirmative action, otherwise its hegemony is normalised.
Whilst black players in England have excelled as professional footballers in the top tier, Asian players have not. This season, only Leicester's Hamza Choudhury has played in the Premier League. One could argue that Asian parents should do more to help their children progress in football and other sports, but at the same time, there appear to be institutional issues and stereotypical assumptions such as "they don't like physical contact" or "their traditional game is cricket" only serve to perpetuate discrimination and limit access to opportunities. The FA and professional leagues must do more. In particular, they must take active steps to educate the clubs, the directors, the coaches and managers to combat the chronic under-representation of British Asians in top-level English football and support the recruitment and development of Asian boys and girls. The FA agrees that there is a problem and in 2015, it initiated a three-year plan to address the under-representation of Asians in football.
The disparity in the number of black managers in the top flight also needs to be questioned because for some reason, they are not making the transition into coaching and management positions. Research conducted by the Independent in June 2018 revealed that "since 1990, one in four – just under 25 per cent – of retired England international footballers have been black or from an ethnic minority background (BAME). But of those ex-players who have subsequently gone into a management job, that drops to just one in seven". The data indicates that black managers do not get the same chances in the game as white managers and white managers have a greater chance of securing a managerial role, in comparison to their black counterparts.
The issue of under representation of Asian footballers obviously needs to be addressed and there is an argument that black players are overlooked for management opportunities.
In February 1999, Sir William MacPherson, in his report on the Stephen Lawrence Inquiry, defined 'institutional racism' as
"… the collective failure of an organisation to provide an appropriate and professional service to people because of their colour, culture or ethnic origin. It can be seen or detected in processes, attitudes and behaviour which amount to discrimination through unwitting prejudice, ignorance, thoughtlessness and racist stereotyping which disadvantage minority ethnic people".
In 2017, after the FA fiasco involving England women's Manager, Mark Sampson's treatment of England footballer, Eni Aluko, Katharine Newton of Old Square Chambers, the barrister who conducted the third inquiry, concluded: "I consider that in making the comment to EA [Eni Aluko], MS [Mark Sampson] did treat EA less favourably than he would have treated a player who was not of African descent. MS had therefore subjected EA to less favourable treatment because of her ethnicity. As a matter of law it was a racially discriminatory comment … It is important to state that this is not a finding that MS is racist."
Although the footballing body later apologised to Aluko over Sampson's remarks, the chairman of the FA, Greg Clarke was blasted by MPs for describing institutional racism as "fluff" as he gave evidence on discrimination in football.
Clearly, condemnation, coupled with a myopic approach to tackling discrimination is simply not enough and much more needs to be done to #ShowRacismtheRedCard and #KickItOut. In particular, UEFA, FIFA, the FA, county associations, professional football clubs, and those at grassroots level must critically examine their policies and put measures in place to guard against disadvantaging any section of our communities. Investment in education, bans, fines, harsher sanctions and robust policies must be implemented to eradicate all forms of discrimination on the terraces. Clubs also need to offer greater transparency to their recruitment processes and recruitment must be on merit, rather than contacts and/or perception that individuals from a particular racial group are most likely to 'fit in'. Informal recruitment through the grapevine by word of mouth exists in all sectors and not just in football and is potentially one of the most discriminatory forms of recruitment as it often has the effect of perpetuating any racial imbalance already present in the workforce.
The governing bodies must intervene and admit that racism is a problem that needs to be eradicated from football and wider society. The Brexit vote demonstrates the depth of anti-immigrant feeling in Britain and the recent wave of racial abuse in football appears to be a symptom of a wider societal problem.