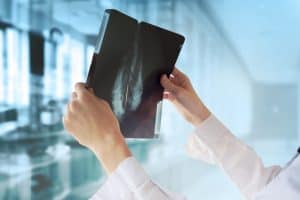 In what is believed to be the first of its kind against a large NHS Trust, Rahman Lowe client Sue Allison is due to challenge the non-disclosure agreement (NDA) she was pressured to sign, in a hearing which could have major implications for whistleblowers and the future of gagging orders.
Our client, a radiographer blew the whistle on NHS malpractice. In 2012, Sue Allison, 57, reported a string of missed cancer diagnoses and wider concerns about standards of care in a breast screening unit at Morecambe Bay NHS Foundation Trust.
After raising concerns with a colleague, the pair claimed they were ostracised and subjected to extensive bullying, eventually leading them to file formal grievance complaints against the trust.
Mrs Allison believes she has been blacklisted in the NHS and says she has been asked about being a whistleblower in a number of subsequent job applications she's made in places as far away as Kingston.
Rahman Lowe partner, Jahad Rahman said the case could have wide implications for attempts to silence not just whistleblowers, but also victims of crime or abuse.
"Hopefully this case will significantly contribute to the debate about whether or not it's right to silence individuals raising concerns about wrongdoing and misconduct in the workplace…the outcome is likely to give them confidence to speak out," he said.
"We need people to come forward or else we are exposing the public to danger.
"This case goes beyond the remit of whistleblowers, in fact. NDAs should never be used to cover up criminal activity at work, as we've seen them being employed for cases of discrimination and sexual harassment at work. Sexual assault is a criminal offence".
Our client's case has received considerable press attention and was reported in the Sunday Telegraph.
For further information, or to discuss a whistleblowing matter, please contact us on 0207 956 8699 or info@rllaw.co.uk.
Credit: The Sunday Telegraph