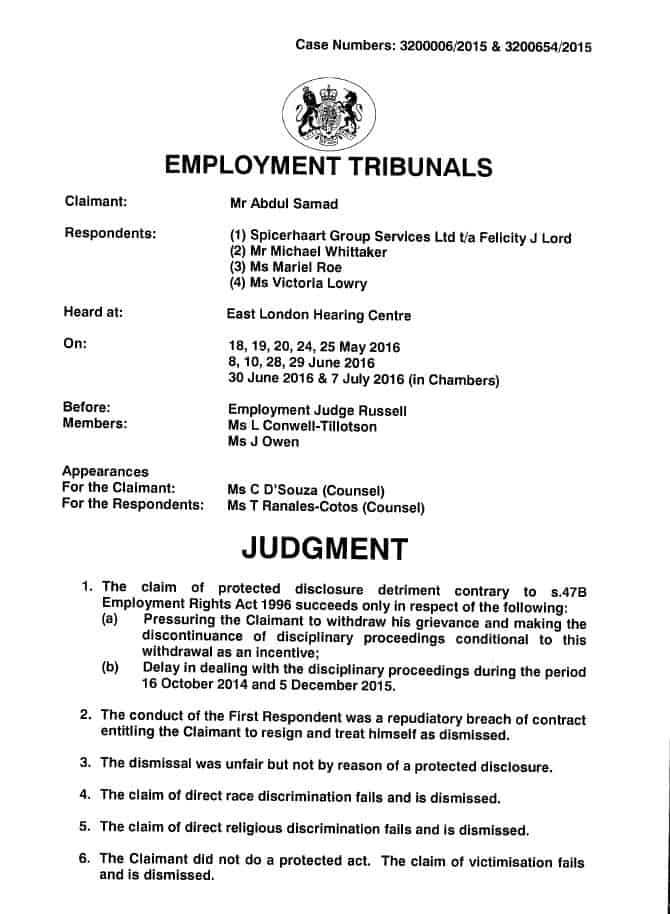 Jahad Rahman of Rahman Lowe Solicitors and Carolyn De Souza of 12 KBW successfully represented Mr Abdul Samad, a high flying Branch Partner of Felicity J Lord estate agency, at the Employment Tribunal.
Mr Samad was employed by Spicerhaart/FJL as a Senior Branch Partner at the company's Bow branch. During his employment, he expressed concern about the estate agency's decision to publicise sold properties on its website, which gave a misleading picture of the stock and market share of the branch and region where he worked.   He complained about race/religious discrimination and expressed concern, in the public interest, about the manipulation of the company's market share on online portals such as Rightmove.
Following a lengthy hearing, the Tribunal found that our client was victimised for blowing the whistle at work and that he was pressured to withdraw his grievance because he expressed concerns about market manipulation.
The Tribunal also found that Mr Samad was forced to resign in response to serious breaches of his contract – the tribunal held that "discontinuance of the disciplinary proceedings was conditional upon the claimant withdrawing his grievance was a serious error of judgment", such that Mr Samad had complete lost trust and confidence in his managers. As a result, the Judge concluded that he was constructively unfairly dismissed.
Jahad Rahman said: "this is a victory for common sense. The tribunal not only found that my client was unfairly dismissed but he was also victimised for whistleblowing at work. It is shocking that the company tried to cover up the market manipulation concerns by asking my client to drop his grievance. This is one of the most disturbing aspects of the case"
The Tribunal will shortly determine Mr Samad's award of compensation.
This case attracted considerable press attention and was reported in the Evening Standard, Metro and other property management blogs and journals.
If you would like to read the judgment of the Employment Tribunal in full or have a similar whistleblowing matter that you would like to discuss, please get in touch. Our specialist employment solicitors can be contacted on 0207 956 8699 or info@rllaw.co.uk.