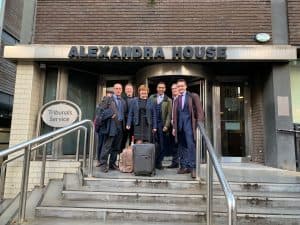 Rahman Lowe client, Sue Allison, a radiographer, who raised serious concerns about missed cancers and poor standards of care in the breast screening unit at the Royal Lancaster Infirmary, won the first step in a landmark Employment Tribunal case after being subjected to years of bullying and victimisation.
Sue Allison's case was heard in Manchester Employment Tribunal on 2 April 2019 to determine whether a non-disclosure agreement (NDA) she was forced to sign was legally binding.
In 2012, Sue Allison blew the whistle about missed cancers and poor standards of care within the breast cancer unit.  It was a courageous and selfless act of whistleblowing which is likely to have resulted in lives being saved.
In 2015, she was put under considerable pressure to sign a gagging clause/NDA without legal advice on the terms.
Mrs Allison, a qualified radiographer for 34 years, says that as a result of her whistleblowing, she was ostracised and subjected to extensive bullying, which eventually caused her to file formal complaints against the trust.
Morecambe Bay NHS Foundation Trust applied for Allison's case to be struck out on the grounds that the NDA she signed in 2015 prevented her from relying on disclosures she made about missed cancers in 2012 and bringing future claims against the Trust.
The Tribunal threw out the Trust's application to strike out Allison's case on Tuesday. Employment Judge Howard ruled that Allison has a "prima facie case of whistleblowing detriment" and should be allowed to press ahead with her claim arising from disclosures she made in 2012, and which resulted in alleged victimisation and professional blacklisting.
The decision paves the way for her to proceed with a whistleblowing claim and could prove significant in terms of the use of gagging orders in the health service. Gagging clauses (also known as NDAs) are being used by NHS trusts to cover up serious concerns about patient safety and care.
The case has put the spotlight on the mistreatment of whistleblowers within the NHS and how NDAs are used to silence whistleblowers and suppress the freedom to speak the truth.
Jahad Rahman of Rahman Lowe Solicitors said: "As the NDA was rightly determined to be invalid, the saga of bullying, harassment and victimisation can now be heard at the future hearing. The case exposes the ongoing misuse of gagging by the NHS and it is possible that there are many other cases where gags are similarly not valid."
"This has been an extremely stressful experience for my client. She has had to put up with regular threats of costs and intimidation by the Trust's lawyers for several months. The Trust has fought this case tooth and nail and has spent a considerable amount of public funds on defending the claim.
It's a humiliating ruling for Morecambe Bay NHS Foundation Trust and clearly a victory for common sense.  For a large NHS trust to victimise staff that speak out about public safety issues and to then blacklist that employee is deeply concerning".
Our client's case has received considerable press attention and was reported in The Sunday Telegraph and The Lancaster Guardian, among other papers. For further information, please contact our specialist whistleblowing solicitors on 0207 956 8699 or email us at info@rllaw.co.uk.