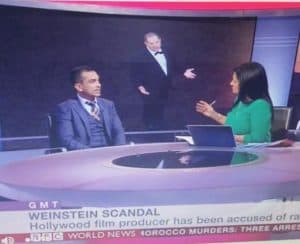 A judge has declined to dismiss the sexual assault charges against Harvey Weinstein.
Weinstein has been charged with rape and other criminal sexual acts. He denies all allegations of non-consensual sex and his lawyers asked for the case to be dismissed on the grounds of evidential inconsistencies but a judge has decided against it.
Jahad Rahman of Rahman Lowe Solicitors was invited to discuss the charges on BBC World News. He appeared as an expert on the issue and also commented briefly on the use of non disclosure agreements (NDAs) in sexual harassment cases.  NDAs have been in the news linked to stories with Harvey Weinstein, Sir Philip Green and Stormy Daniels.
If you would like to discuss a sex discrimination or sexual harassment matter, please get in touch with our expert employment solicitors on 0207 956 8699 or info@rllaw.co.uk.